"Globally, Moreton Bay and Pumicestone Passage are unique aquatic environments, supporting a rich variety of aquatic habitats and species, from seagrass meadows, coral beds, fish and crustaceans, to turtles and dugongs." Source: State of the Brisbane River, Moreton Bay and Waterways, 1996.
"The mangrove swamps possess an extraordinary number of stunningly beautiful animals, each playing an important role in the healthy functioning of the swamps." Source: Wild Guide to Moreton Bay, 1998.
!
!
Group Support Base

Wildlife Preservation Society of Queensland
Group Goal
To support local community members and Aboriginal traditional owners in the better monitoring and management of coastlines and tidal wetlands within the Moreton Bay region.
The Team
The Moreton Bay MangroveWatch crew comes from a wide variety of backgrounds but share a common interest – mangroves. Their collective interest in mangroves has resulted in good quality film, still shots, GPS readings and commentary relating to over 300 kilometers of mangroves in and around Moreton Bay.
Results
"There are two organisms on our planet that are very important and not enough has been fully studied. That is Mycota (fungi) and mangroves. Mangroves are 50 times more productive than rainforests. And, they take in 6 times more carbon. In addition, they hold river banks together, their root systems extract pollutants, they supply pollen for pollinators, they provide housing and food for animals. It has been reported that around 75% of Moreton Bay fishes have their nurseries in mangroves. They need looking after, and Mangrovewatching is a lot of fun and participants have a great time out on their waterways, seeing lots of plants and animals", says Geoff.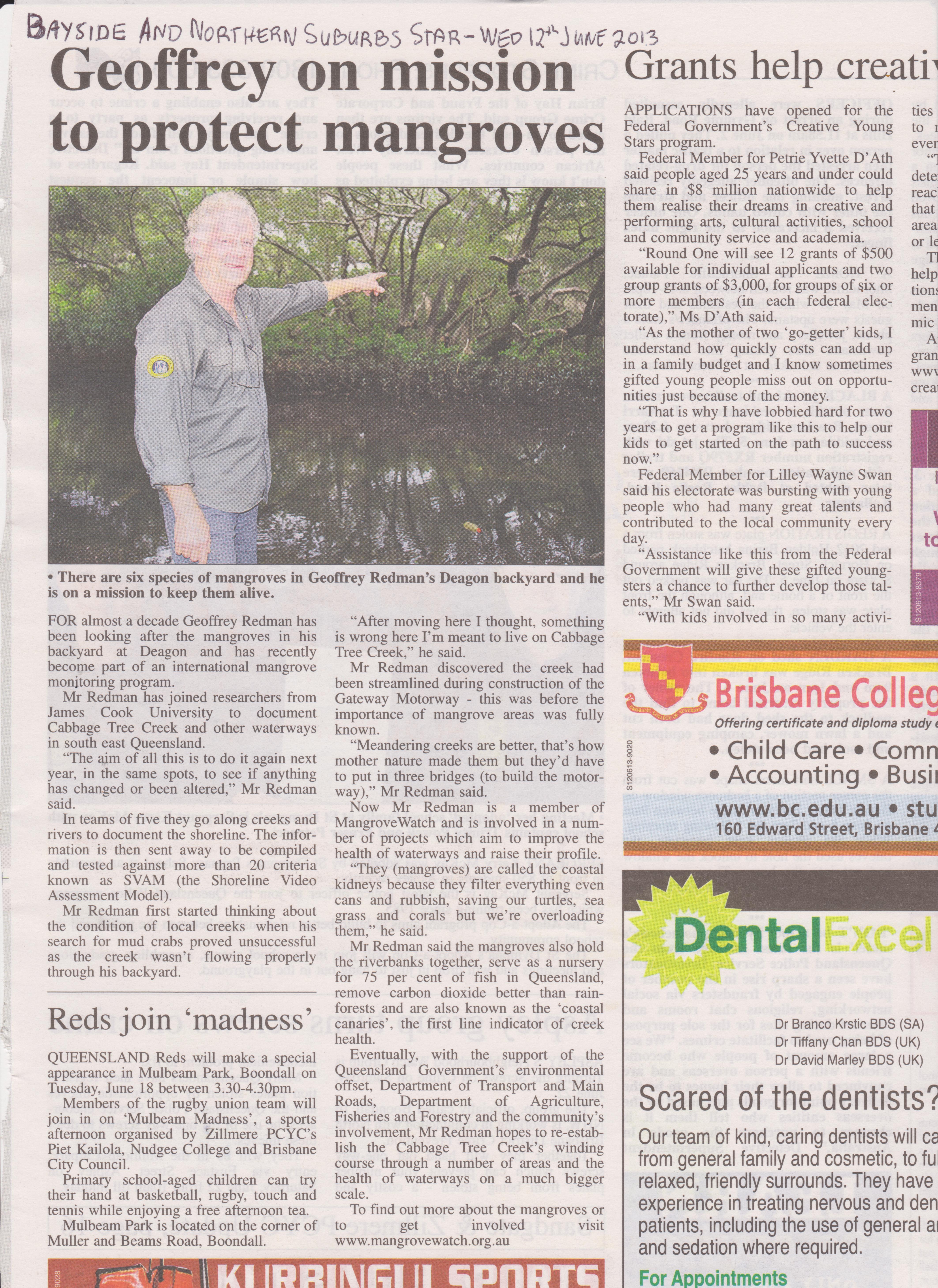 "Mangrove Watching – What a great way to get out on the water with some interesting like-minded people and explore the local waterways while doing something worthwhile for the environment!" Narelle
"There's an ancient mangrove tree that stands, alone, out from the beach where I live. It mocks the storms, king tides and wild winds that have been trying to knock it down forever. I think of mangroves as survivors, hanging in for the greater good of life around them – working class heroes of the creeks and coast. Doing something to recognise and support all they do for us is a wonderful way to spend a few hours, in a happy boat, with caring people". Peter
Get Involved and Be Informed
If you and your organisation's members enjoy spending time on the water and want to do something to preserve Moreton Bay's beautiful mangrove forests, contact us to start a MangroveWatch group in your area. Your local knowledge, energy, and commitment to protect our coastal systems are just what we need.